Simon's Cat Limited Edition Collector's Coin and Autograph - Life is Better with a Cat
Regular price
£49.99


'Life is better with a cat' Isn't that the truth?
This is the purrrrfect gift for a Simon's Cat super fan!
The Simon's Cat Challenge Coin is a collector's item and makes for a great display piece, award, or a token of friendship. Coin measures 2" across.Each Limited Edition coin also includes an exclusive hand-signed autograph card from Simon's Cat creator, Simon Tofield.
Just 250 of these were minted, each number engraved, and are exclusive to the Simon's Cat Shop. Comes with a protective black pouch.
Subject to terms and conditions, items can be returned within 30 days. Personalised items that are damaged or defective can be returned, please read our terms and conditions for full details.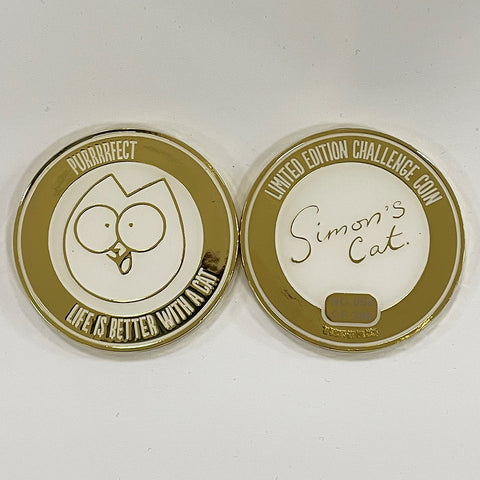 Nice collectors item
This is the 2nd coin, and I now have both. Everything went well and our local Postman Pat was happy with the new needed Brexit customs paperwork on the back of the envelope.
Great Coin
I have enjoyed Simon's Cat for years now and I also collect challenge coins. I was pleased to see Simon's Cat offering a coin. The coin will be a great unique addition to my collection.
Beautiful!
I absolutely LOVE my Simon's Cat challenge coin! It's high quality, it has great detail and it makes me smile! Great job!
Nice
Bought for Father's Day so not given yet, but it's nice, good quality.
Cute usa 50 cent piece sized coin
the coin is about the size of a 50 cent piece in the USA. It is very cute and shiny. has some decent weight to it